Click on an IAC country to open a gateway to national information, as well as links to the researchers within that country and country-specific alcohol data and demographics.
The IAC Policy Evaluation Study began in 2011 as a collaboration between New Zealand, England, Scotland, Korea and Thailand. It has since expanded to include several other nations.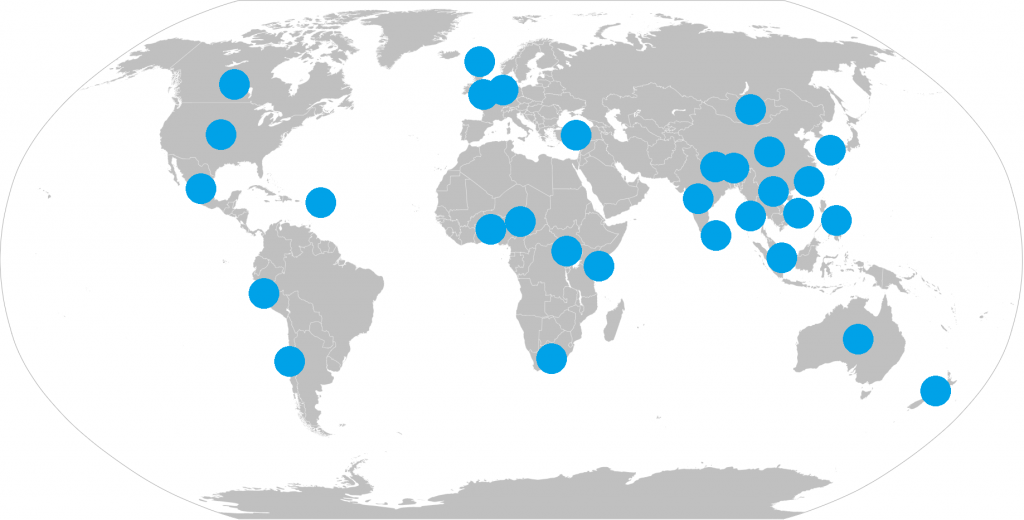 The countries Benin, Uganda and Kenya are using the AEP in a situational analysis, with funding from IDRC, in collaboration with University of Cape Town and Massey University.
Countries joining the IAC COVID study included South Africa, Turkey, Chile, Mexico, Canada, USA, Ghana, Nigeria, New Zealand, Philippines, Vietnam, Singapore, Thailand, Mongolia.
Countries contributing data to the development of the IAC Policy Index: South Africa, Turkey, Chile, Hong Kong Special Administrative Region (SAR), Mongolia, Thailand, Vietnam, Netherlands, Australia, New Zealand, England, Scotland, St Kitts and Nevis. Countries participating in the IAC – SAFER study: Australia, Bhutan, Botswana, Cambodia, Canada, China, Colombia, Finland,  India – Karnataka, Kenya, Lao PDR, Lithuania, Nepal, Netherlands, New Zealand, Nigeria, Norway, Philippines, Republic of Ireland, Sri Lanka, Thailand, Vietnam.